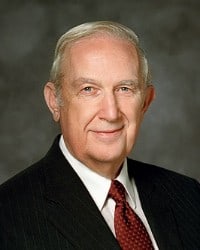 "It is not good practice to become intrigued by Satan and his mysteries. No good can come from getting close to evil. Like playing with fire, it is too easy to get burned. … The only safe course is to keep well distanced from him and any of his wicked activities or nefarious practices. The mischief of devil worship, sorcery, casting spells, witchcraft, voodooism, black magic, and all other forms of demonism should be avoided like the plague.
"However, Brigham Young said that it is important to 'study … evil, and its consequences'. Since Satan is the author of all evil in the world, it would therefore be essential to realize that he is the influence behind the opposition to the work of God." —James E. Faust, "The Great Imitator"
"Satan's increasing influence in the world is allowed to provide an atmosphere in which to prove ourselves. While he causes havoc today, Satan's final destiny was fixed by Jesus Christ through His Atonement and Resurrection. The devil will not triumph.
Even now, he must operate within bounds set by the Lord. He cannot take away any blessing that has been earned. He cannot alter character that has been woven from righteous decisions. He has no power to destroy the eternal bonds forged in a holy temple between a husband, wife, and children. He cannot quench true faith. He cannot take away your testimony. Yes, these things can be lost by succumbing to his temptations. But he has no power in and of himself to destroy them."
Richard G. Scott | "The Power of a Strong Testimony"
Topics: Satan, Sin, Temptation