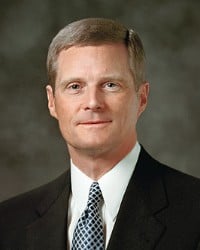 While I was serving as the president of Brigham Young University–Idaho, Elder Jeffrey R. Holland came to the campus in December 1998…As our time together was drawing to a close, I asked Elder Holland, "If you could teach these students just one thing, what would it be?"
He answered:
"We are witnessing an ever greater movement toward polarity. The middle-ground options will be removed from us as Latter-day Saints. The middle of the road will be withdrawn.
"If you are treading water in the current of a river, you will go somewhere. You simply will go wherever the current takes you. Going with the stream, following the tide, drifting in the current will not do.
"Choices have to be made. Not making a choice is a choice. Learn to choose now."
Elder David A. Bednar | "We Will Prove Them Herewith"
Topics: Decisions, General Conference 2020