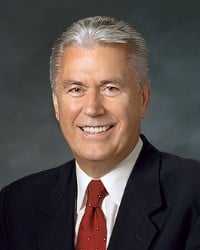 "Every gift that is offered to us — especially a gift that comes from the heart — is an opportunity to build or strengthen a bond of love. When we are good and grateful receivers, we open a door to deepen our relationship with the giver of the gift. But when we fail to appreciate or even reject a gift, we not only hurt those who extend themselves to us, but in some way we harm ourselves as well.
"The Savior taught that unless we 'become as little children, (we) shall not enter … the kingdom of heaven.'
"As we watch the excitement and wonder of children at this time of the year, perhaps we can remind ourselves to rediscover and reclaim a precious and glorious attribute of children — the ability to receive graciously and with gratitude."
Elder Dieter F. Uchtdorf | "The Good and Grateful Receiver"